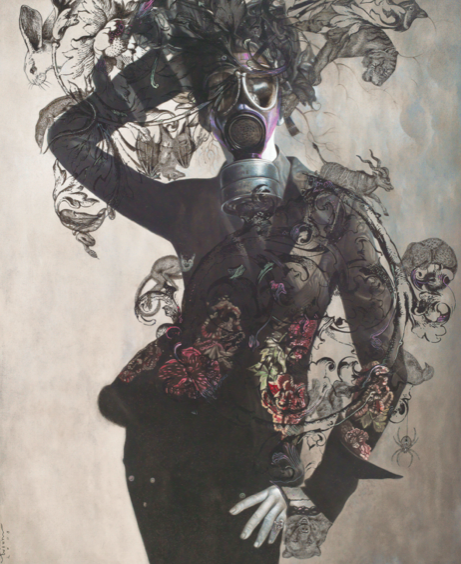 If you have not heard of Ronald Ventura, I am very much afraid of the geographical confinements of information (censorship via search engine). Ronald Ventura is not only one of the most prolific and successful living artists in South East Asia, he is also something of a celebrity, gracing the cover of glossy magazines such as Tatler in his own country. He does dress the part for this.
I first encountered his work at NUS Singapore (the university's gallery) in 2008, with an exhibition entitled Mapping the Corporeal. It was a body of paintings and sculptures that combine classical art imagery with pop culture, a saturation of rainbow colored animated American idols (Mickey Mouse and friends) and fast food layered upon a monochromatic hell..
His work is described as a "phantasmagoria of modern life," appropriately referencing that modernist philosopher, Walter Benjamin's writings about industrialization, and the new modern life in the city.
The 2008 paintings, accurately reflect the bombardment of information and and its impeachment upon human life. The paintings have imagery layered upon imagery. He carefully creates monochromatic chaos with cautiously applied areas of colour.
He has an entire catalogue of work that moves away from this but these oil painting collages remain his signature trait.
His sculptures are minimalist statements cast in resin. The look like disturbing over-sized lumps of plastic from a board game, or an anime model collector's cabinet.
His recent work was created in lock down under the corona virus, which is somewhat reflective of Ventura's painted world. When I saw "Zoo Keeper" at NUS the corona virus did not exist and the mask clad model in the painting seemed a far fetched, somewhat theatrical statement. They all seem less theatrical now.
There is not much written about Ventura outside newspapers and exhibition catalogues. He is worth the effort. Go to any shows and look him up on line, you will not be disappointed.
Key Points
Dystopian Societies.
Modern Society and Global Cultures.
What can you learn about Ronald Ventura from where you are?